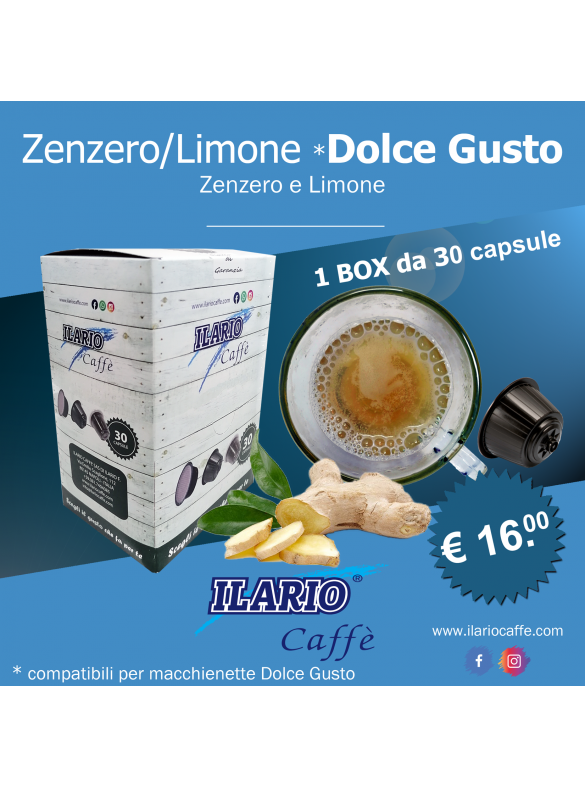  
GINZEL IC00182
1 Dispenser with 30 capsules each
Practical dispenser with open mouth opening containing 30 capsules compatible with DOLCEGUSTO machines of a lemon-flavored ginger drink to be prepared as a warm herbal tea or as a fresh drink with the addition of ice to obtain all the benefits of ginger with strong notes citrus
COMPATIBLE CAPSULES DOLCEGUSTO GINGER AND LEMON
Taste ginger and lemon

PACKAGE OF 1 DISPENSERS

 FREE SHIPPING IN ALL ITALY MORE TO 50 EURO
Secure PayPall SSL Payments, Wire Transfer

FREE SHIPPING in 24/48h

GUARANTEED Returns As per Current Regulations
Their main differences are to be found in taste and where they are grown, and the first major difference is genetic: the arabica has 44 chromosomes and the robust 22, the robust also contains a higher level of caffeine than the Arabica, even of the double. This factor is important to consider for those who have trouble getting to sleep after drinking an extra coffee. What coffee was it?

The arabica (which in brackets is 70% of the coffee produced in the world) is mainly grown in South America, in Central America and in Africa of "reefs", Kenya, Ethiopia and East Africa in general. The robust instead is produced on average from west Africa (Cameroon, Ivory Coast etc) and in the Far East (Vietnam and Indonesia first). In addition to this the arabica grows at its best at high altitudes, above a thousand meters and needs a lot of rain, while the robust grows even at lower altitudes and under conditions, say, less ideal in terms of humidity and soil type; it also has less disease problems.

The arabica and robust beans are distinguishable. Those of arabica are more elongated, oval, those of robusta instead have a more rounded shape and have a more or less straight groove.
8 other products in the same category: