The shipment of your package is FREE IN ITALY and ISLANDS
Packages are generally sent within a maximum of 4 days from receipt of payment and are shipped via Italian Courier with tracking and delivery without signature. If you prefer a signature request delivery, an additional fee will apply, so please contact us before choosing this method. Whichever type of shipment you choose, we will provide you with a link to track your package online.
Shipping costs, even if FREE IN ITALY, include, at our expense, handling and packaging costs and postage costs. The fixed management costs, while the transport costs vary according to the total weight of the shipment. We recommend that you group your items in one order. It is not possible for us to group two distinct orders placed separately. your package will be sent at your own risk, but special attention is paid in all cases.
N.B. If you wish to receive the products in a shorter time with EXPRESS shipping, the costs are at your expense. We leave it to you to choose the courier choice in relation to the delivery time. FREE with STANDARD COURIER max 4 days or for a fee with EXPRESS COURIER max 2 days.
For disadvantaged areas and the ISLANDS, delivery is delayed by 24 hours due to problems that cannot be registered with ILARIO CAFFE 'SAS but with the courier.
The FREE Standard ITALIAN courier IS POSTE ITALIANE which delivers in max 4 days
The ITALIAN EXPRESS PAYMENT courier is POSTE ITALIANE which delivers in max 2 days
The FOREIGN EXPRESS PAID courier CAN VARY BETWEEN UPS AND ITALIAN POST and deliver in max 5 days
The boxes are adequately sized and your items are well protected.
We remind you that STANDARD or EXPRESS shipping does not include customizations such as: delivery to the floor, delivery by the hour, delivery on pre-holidays and / or holidays. When the goods are shipped it is at the discretion of the courier to establish, based on his priorities, at what time to deliver them. Orders arriving by 12 noon on Friday are always processed on the following Monday. On Saturday, much less on Sunday, the courier makes collections or deliveries.
We also ship to the following continents and their countries, applying the rates listed below in relation to the increase in PRICE and not in WEIGHT.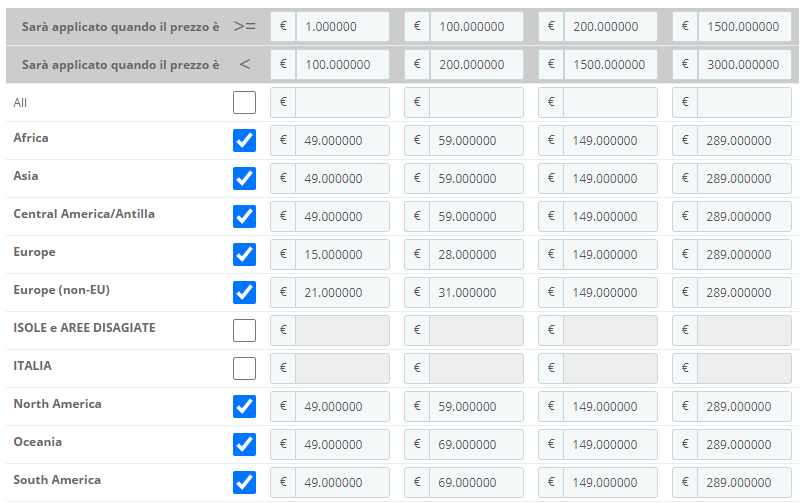 COUNTRIES OF FOREIGN SHIPPING
It is possible to buy products from all over the world as Ilario Caffè is a Market Place present in several countries (Italy, France, Germany, United Kingdom, Spain, Australia, United States, Japan, Canada etc.) and translated into various languages: English.
FOREIGN SHIPPING COSTS
If the shipping country is one of the countries where ILARIO CAFFE 'is present, taxes and customs duties may be charged by the local authorities, as well as any additional shipping costs which ARE CALCULATED AND COMMUNICATED SEPARATELY FROM THE PURCHASE ORDER.
Shipping in ITALY is FREE and the minimum order to be able to use it is 20 euros
Our express couriers: